Congratulations to Glenda Martin for her lovely arrangement, which one second prize in the January Burn's Night NAFAS Area competition.
I AM SORRY TO SAY WE HAD TO CANCEL OUR COMPETITION NIGHTS FOR 2020 BUT YOU WILL SEE BELOW THE SORT OF THINGS YOU HAVE TO LOOK FORWARD TO IN 2021.
Class 1 – Beginners – "Spring is Sprung"
Class 2 – Advanced – "Fun with Flowers"
Class 2 – Open – " Basket of Flowers"
PLEASE MAKE SURE YOU HAVE SUBMITTED ENTRY FORM BEFORE THE NIGHT.
TUESDAY 10th Septemer 2019. Club Competitions
Beginners Class
1st Liz Loze
2nd Olive Holdem
3rd Sue Gilmour
H.C. Liz Hawtin
Open Class
1st Sally Fallows
2nd Di.Barnard
3rd Joy hutchings
H.C. Glenda Martin
OPEN TO ALL
1st Joy Hutchings
2nd Di Phillip's
3rd Julia Smith
H.C June Thomas
Presidents Choice
Sally Fallows
---
TAUNTON FLOWER SHOW 2019
3rd.in SPACED OUT. Glenda Martin
1st I ROOTS, SHOOTS AND LEAVES Glenda Martin
1st. in ALFRESCO. Glenda Martin.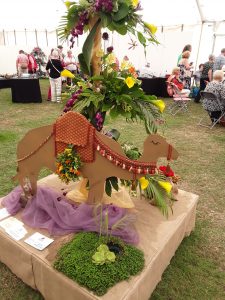 1st THE SILK ROAD. Caz Townsend, Eleanor Gardner and Diana Phillip's. Also winners of THE WESTERN PROVIDENT ASSOCIATION TROPHY