WORKSHOPS FOR 2020 ARE AS FOLLOWS
SORRY TO HAVE TO SAY THE WORKSHOP FOR BEGINNERS TO BE HELD ON 13TH JUNE 2020 HAS BEEN POSPONED OWING TO CRONAVIRUS. WE WILL HOPE TO RUN IT LATER IN 2020.
Workshop 2 with Di.Phillips for Beginners on 13th June 10am to 12am at Mark VH.
Workshop 3 Contemporary Designs with Jo Jacobs for Advanced flower arrangers on
29th September at our usual Church Hall 6pm to 10pm.
All details will be given in due course.
We had a very enjoyable workshop with Hans Haverkamp on 25th November 2019 at Matk Village Hall. He was a very good teacher and experienced and beginners alike produced some very good work The main component was pussy willow and here are a few of the designs we created.
A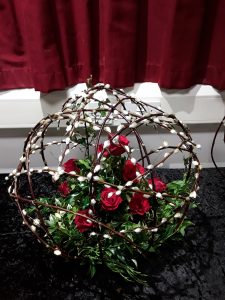 A very good workshop was held on Saturday 6th July 2019 at Brent Knoll Village Hall.It was tutored by Tracy Johnson from Torquay. Those who attended were inspired by her designs and here are a sample of what they achieved.
2018 Christmas Workshop
25th November was when Cristmas began for the ladies of Burnham Area Evening Flower Club.
The workshop was taken by Katherine Kear. It was an excellient day with lots of new ideas. I am sure all the ladies tables will look stunning this Christmas.
Workshop for Beginners.
Sally Fallows and Joy Hutchings ran a very sucessful workshop for beginners in the Autumn. They produced a container of flowers out of a block of oasis! Yes I wondered how but here are some photos to show you just that.
2018 Spring Workshops Nicky Heal taught us designs including; a corsage, small hand-tied posie, arrangements using a small number of flowers, and foliage only arrangements.
Here are just a few of the members corsages and posies long with Nicky Heal.
Second Spring Workshop. An arrangement using no more than 5 flowers.
Some lovely work ladies. Well done
The 3rd and final Spring Workshop was using only foliage. Here are some amazing photos of the arrangements produced.
Thank you Nicky for a very enjoyable set of workshops.
At our 2017 Christmas Workshop Jonathan Moseley showed us how to make seasonal welcome rings on straw bases and table centrepieces. Here are some pictures of what was a very enjoyable day.
Jonathan showed us what to do first –
As well as workshops with professional tutors, we also have classes by our own members. Here we are admiring each others finished designs at our practice class in 3 June 2017, when we did all round table arrangements and landscape designs. Novice and Advanced Arrangers work together learning from each others' successes and mistakes!
And here is a closer look at some of our designs –