TUESDAY 10th Septemer 2019. Club Competitions
Beginners Class
1st Liz Loze
2nd Olive Holdem
3rd Sue Gilmour
H.C. Liz Hawtin
Open Class
1st Sally Fallows
2nd Di.Barnard
3rd Joy hutchings
H.C. Glenda Martin
OPEN TO ALL
1st Joy Hutchings
2nd Di Phillip's
3rd Julia Smith
H.C June Thomas
Presidents Choice
Sally Fallows
---
TAUNTON FLOWER SHOW 2019
3rd.in SPACED OUT. Glenda Martin
1st I ROOTS, SHOOTS AND LEAVES  Glenda Martin
1st. in ALFRESCO.  Glenda Martin.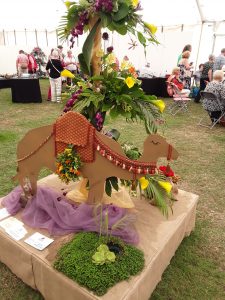 1st THE SILK ROAD. Caz Townsend, Eleanor Gardner and Diana Phillip's. Also winners of THE WESTERN PROVIDENT ASSOCIATION TROPHY
Well done ladies, a good show for Burnham Area Flower Club.
THE BISHOP PALACE DECEMBER 2018
The Bishops Palace, Wells held Deck the Halls. This included the NAFAS  Area competitions. The club competition was entitled Pantomime Time. Our club entry was entered by Jenny Thomsa and Diana Phillips with Cinderella. They achieved a Very Highly Commended.. They created Cinderalla's Coach with willow and decorated it with flowers, mice and a pumpkin and even a glass slipper.
Congratulations to Glenda Martin, Joy Hutchings andJulia Smith on coming third at Taunton Flower Show this year in the club class entitled "Blue Planet".
Glenda Martin also came third in the class entitled " In Suspense". Well done ladies.
The 2018 Floral Art Competition for Members was held on 12th June.The results were as follows:
Beginners – Natures Summer Palette,
1st.Pat Mac. 2nd Sue Harvey, 3rd Liz Hawtin.
Intermediate – Burnished Beauty,
1st Lynne Duckett
Advanced – 'Bamboozled'
1st. Jenny Thomas,  2nd. Joy Hutchings, 3rd. Diana Phillips.
Our 2019 competitions will be on 10th September. The class titles will be:
Novice – Fruits of Autumn
Intermediate – Summer Sunset
Open – Taste of September
Open Foliage – 'Forget The Flowers'